This SEO case study is for a client who is in a very competitive tech niche and lots of businesses are spending a lot of money to stay on top. Me and my team had to work under a lot of constraints and restrictions. Still, we managed to get good results. In my opinion, as an SEO expert I could have done a lot better but sometimes keeping the client happy is one of our priorities. So, let's get back to work and take a closer look at what we did.

Challenges Faced During This Project
The client was not aware of how digital marketing or SEO strategies work
Was negligent in implementing long term strategies
Was insecure about the security of his/her digital assets
Then & Now Progress Made During Nov 2019 To April 2021
| | Then | Now |
| --- | --- | --- |
| Moz | | |
| Domain Authority | 27 | 36 |
| Page Authority | 29 | 38 |
| Spam Score | 1 | 1 |
| Ahref | | |
| Domain Rating | 29 | 51 |
| URL Rating | 34 | 44 |
| Backlink Count | 540 | 10.5k |
| Recent | 415 | 17k |
| Historical | 665 | 35.3k |
| Referring Domain | 109 | 882 |
| Recent | 88 | 1.01k |
| Historical | 128 | 1.27k |
| Dofollow Referring domain | 58 | 434 |
| Organic Keywords | 30 | 9.8k |
| Organic Traffic | 148 | 2.1k |
| Traffic Value | 0 | $5.9k |
| Ahref Rank | 4035317 | 574105 |
| Semrush | | |
| Authority Score | 26 | 42 |
| Backlink Count | 952 | 38.1k |
| Referring Domain | 155 | 994 |
| Referring IP's | 215 | 1145 |
| No of blog posts | 3 | 295 |
| Total Word Count of Blog Posts | 5768 | 575,147 |
| Average Word Count | | 1946 |
| Longest Post by Word Count | | 6462 |
| Total no of pages (main website + blog) | 36 | 500 |
| Number of guest post backlinks | | 161 |
| Blog Platform | HTML/CSS | WordPress |
| Hosting | VPS | VPS |
| Traffic per month | 746 | 17.3k |
Steps Taken To Improve Online Presence & Brand Image
The aim of Edgar was to reach out to prospective clients from tier 1 countries such as the USA, UK, Singapore & UAE.
We published 295 blog posts and shared them on major social media channels like Linkedin, Facebook, Twitter. Many of them are still in their early phases and will rank in the future.
Listed our business on Google My Business and paid for listing our site in relevant business directories.
Almost all of the content written is outsourced and we published 575,147 words on the blog itself. The number of words published on the services pages of the website is not counted.
We didn't spend anything on guest posting. Although we did outreach for relevant backlinks and managed to get 161 backlinks in a span of 4 months. These backlinks will impact later as they were acquired recently.
As per my experience apart from the website individual pages or blog posts can take a time of an average 8 months to fully reach their ranking potential. Some may call it a sandbox but it takes time for Google to judge your post's true worth. Although, as your site's authority increases this time may decrease.
Plugins Used
Autoptimize
Classic Editor
Contact Form 7
Easy Table of Contents
Link Whisper
Logo Carousel Slider
Semrush SEO Writing Assistant
Simple 301 Redirects
SVG Support
Ultimate Addons for Gutenberg
W3 Total Cache
WP Show Posts
WP Word Count
Yoast SEO
Theme: Default WordPress Twenty Twenty with customization
We didn't buy a theme because the client was skeptical of using WordPress. As per their opinion, this platform was not secure. So, we started with the basic theme and stuck with it.
Resources Used
For images: Canva, Unsplash, Pexels, FreePik
Google Sheets
Gmail Google Workspace
Free Integration with Cloudflare
Tracking with Google Universal Analytics
Script for live chat
Progress Snapshots As Per Semrush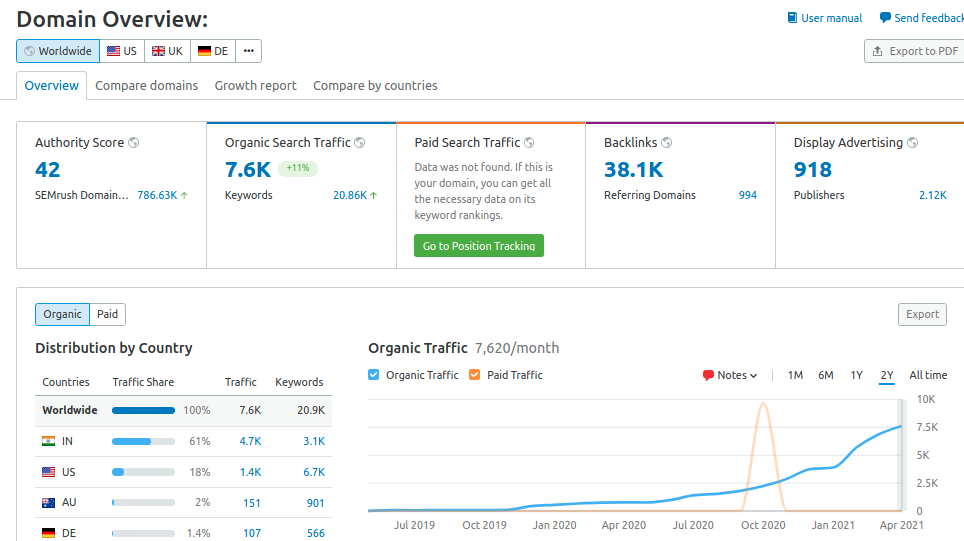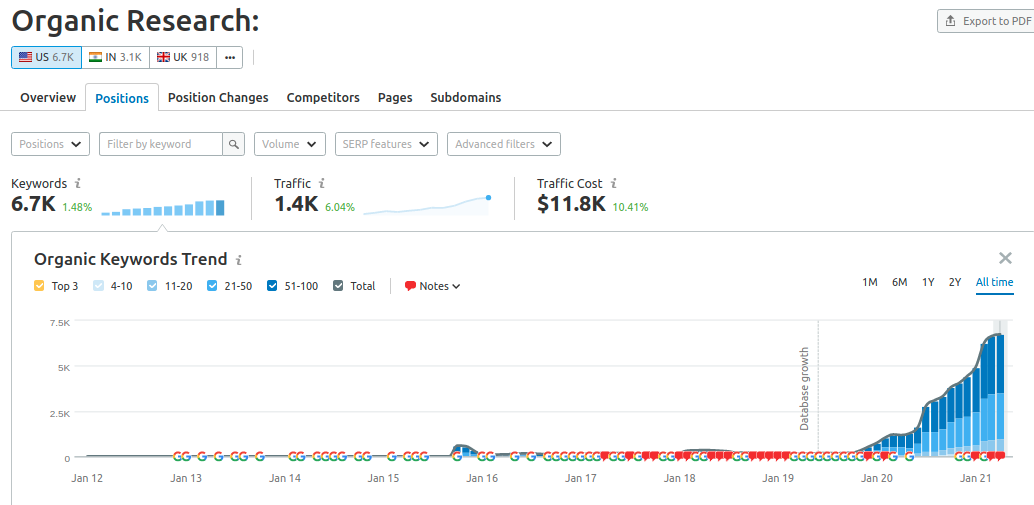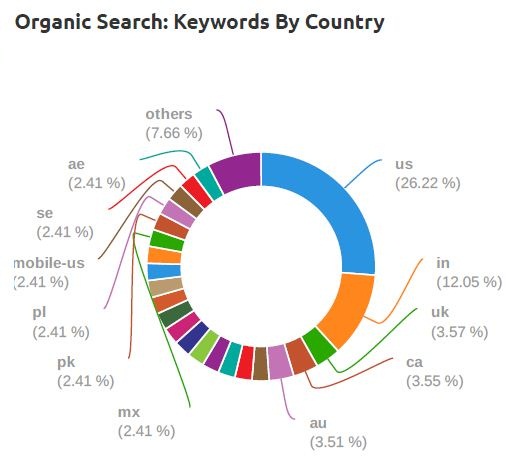 Organic Traffic Insights
This is the organic traffic stats which are based on Semrush integration with Google Search Console. So, as per this data, the latest monthly traffic is 17k and the traffic stats for the last 101 days is 55.6k. The Bounce rate is around 25% and the average session duration is 1.50mins. That means we are getting good interaction on our blog posts.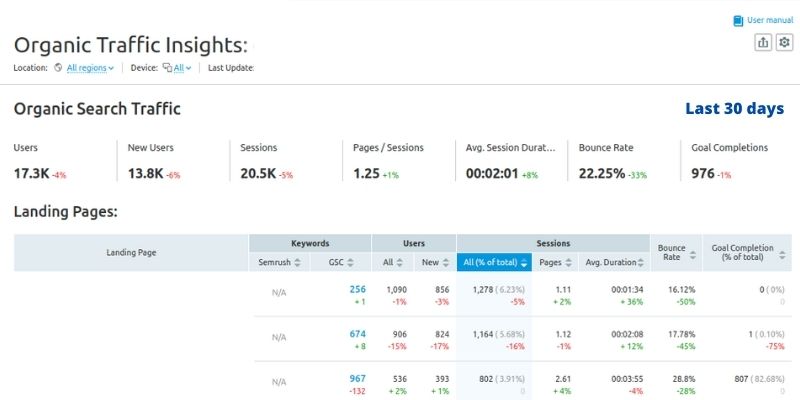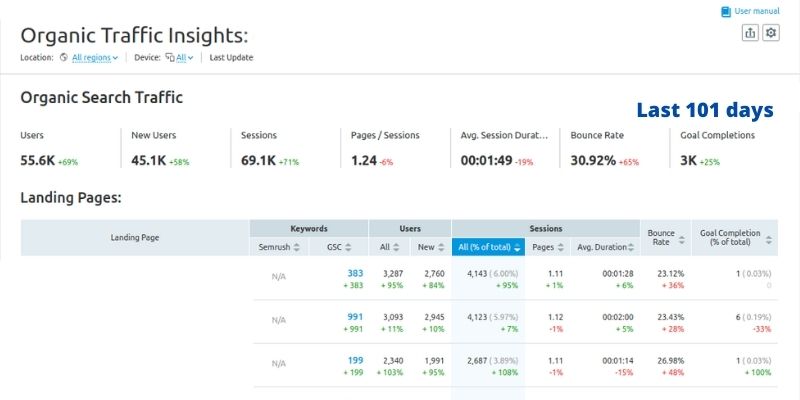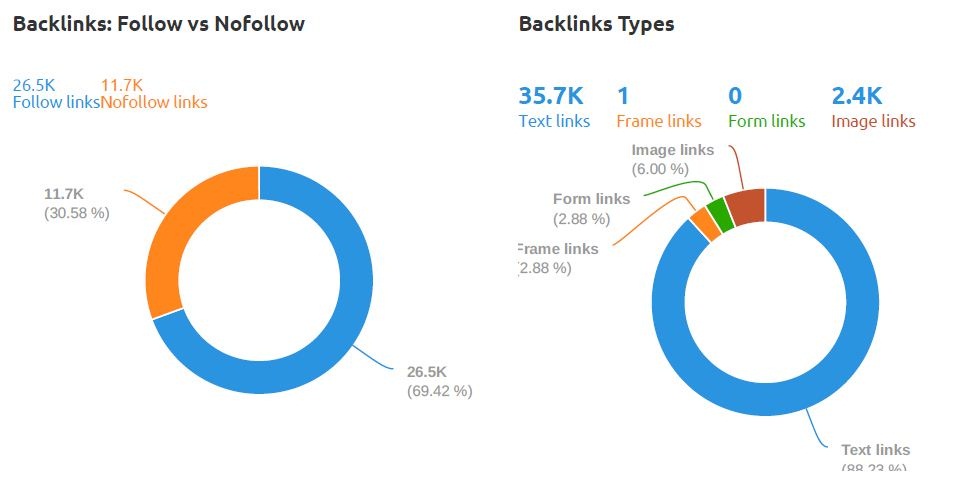 Progress Snapshots As Per Ahrefs
Ahrefs Stats in Nov 2019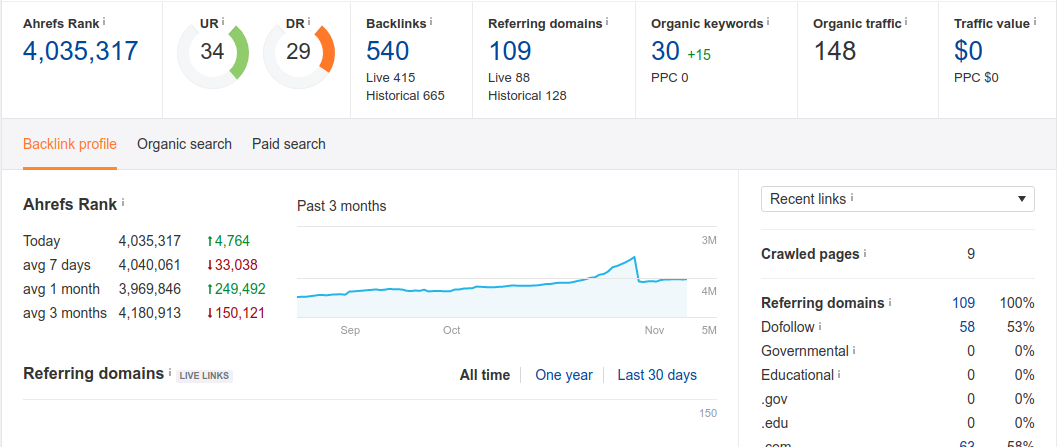 Ahref Stats in April 2021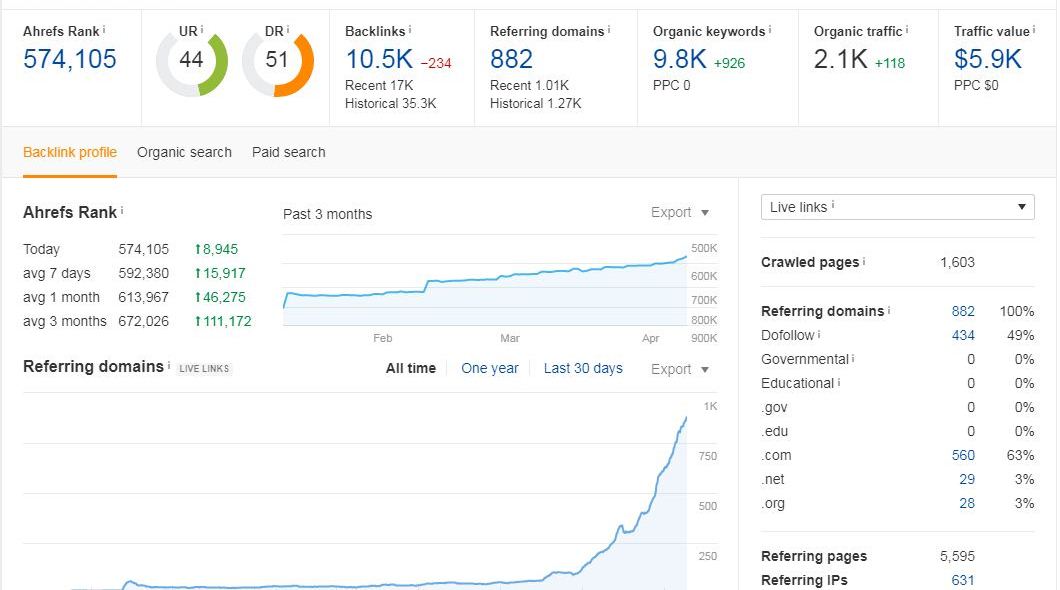 Total Estimated Expenses & Other Details
Estd. expenses on content: $5395.48 + $1,827.10 = $7222.58
Estd. expenses on paid listings: $4300

Estd. expenses on backlinks: Zero (Didn't buy any paid links)

Total time of this case study: 18 months

Estd. expenses on human resources = Time (man-hours spent) x hourly rate: $9389.41
Total expenses (Website development + Design + Maintenance + SEO + Social Media Sharing ) = $20913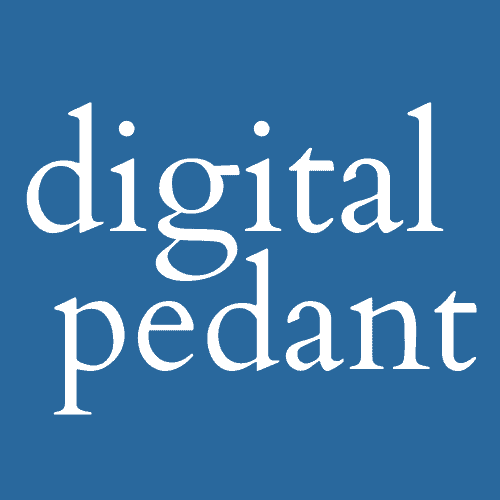 Editor's note:
SEO is a lengthy process and you can start judging the progress of a website in 6 months to 1 year. However, it all depends on your budget, competition, website history, resources available & your client's mindset.
What We Achieved
The traffic shown by SEMrush & Ahref is very low as compared to the real traffic shown by Google Analytics. We have monthly traffic of around 15k to 20k. You might be thinking that this is not much. You are right but I can't show you the whole picture. First of all this traffic is very targeted to only specific keywords that might convert into a lead. We don't focus on small leads instead our aim is to grab high-value clients.
Also, the brand image of the client has improved a lot and there are many other channels through which they have benefitted. The traffic will continue to grow because there are a lot of blog posts that will still take time to rank.
Ongoing Tasks
We are still publishing blog posts that are technical how to's and guides.
Outreach is going on at a slow pace to acquire backlinks consistently
A lot of onpage optimization and web development stuff is still required which we will do in the future.
We are also planning to integrate the blog with Microsoft Clarity heatmaps to get a better insights on user engagement.
Conclusion
You might be thinking that this isn't impressive at all. I agree but when you work under limitations then you do what you can. In my opinion, the results would have been great if we had a single person to communicate with instead of multiple persons who each have their own strategy for SEO. A better way would be to communicate all this before taking the reins of the project in your hand.
Also, this is not the client's error solely as there are so many SEO experts out there trying to scam people by offering their services at very low rates. Due to such scams, the clients get dubious information and they trust all they hear.
If you have any opinion or queries regarding this SEO case study then please let me know in the comments section.