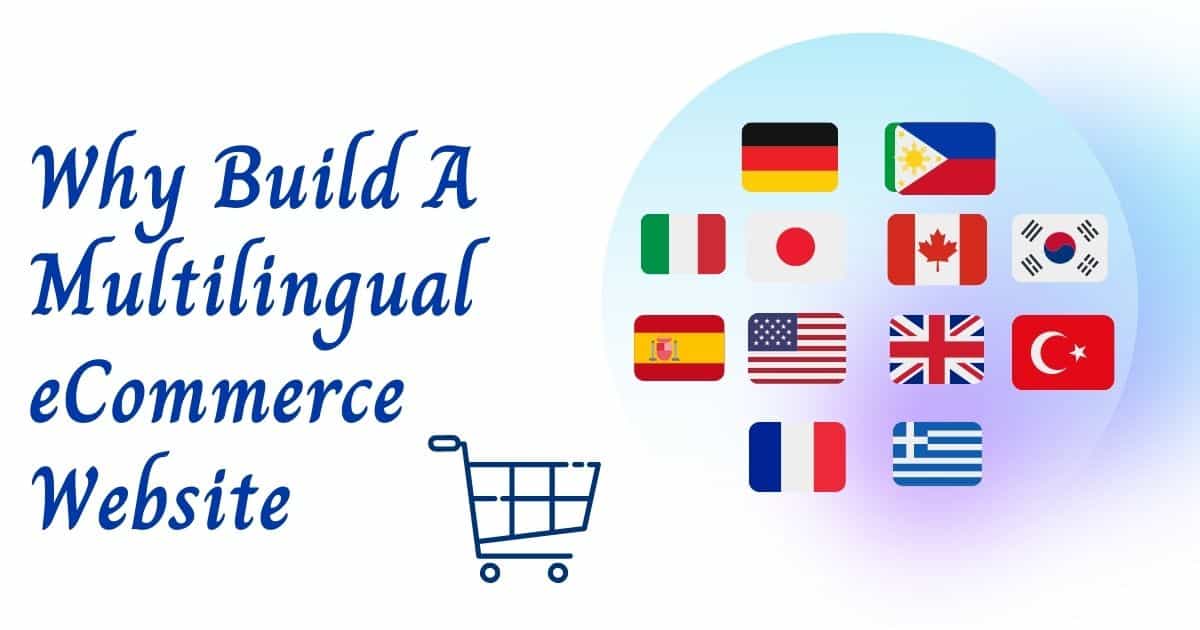 After this pandemic, you might have realized that restricting an e-commerce business geographically is not a good idea. Today, you can promote your products and services online all across the world, regardless of where you are located. To remain afloat in the eCommerce sector, more and more shops are optimizing their eCommerce websites. Also, due to the pandemic, brick-and-mortar stores are setting up their shops online.
As a result, online business owners should take all the steps possible to widen their target audience. Multilingual online stores help us to reach that goal. Multilingual stores enable businesses to reach a larger number of potential customers from different regions and countries.
Cross-border eCommerce is becoming more popular by the day. The internet has also made it easier for your international customers to purchase products from anywhere in the world.
Let's go through the benefits and examples of multilingual eCommerce websites
What Is A Multilingual eCommerce Website?
When a customer shops online, they will prefer to do so from e-commerce websites that present their products & services in their native language. A multilingual website is one that can be accessed in multiple languages.
You can develop and grow your business by allowing different people to read and purchase from your online store if you have a website that is not restricted to only English-speaking users. As a result, you should have a multilingual eCommerce solution to meet specific customer needs and help your business grow internationally.
What Are The Reasons For Developing A Multilingual eCommerce Website?
You may have noticed a few businesses that offer customers multiple language options on their website, which is known as a multilingual website. Now, we'll explain why you should create such a website to help the company grow to new heights.
Assists in reaching a larger customer base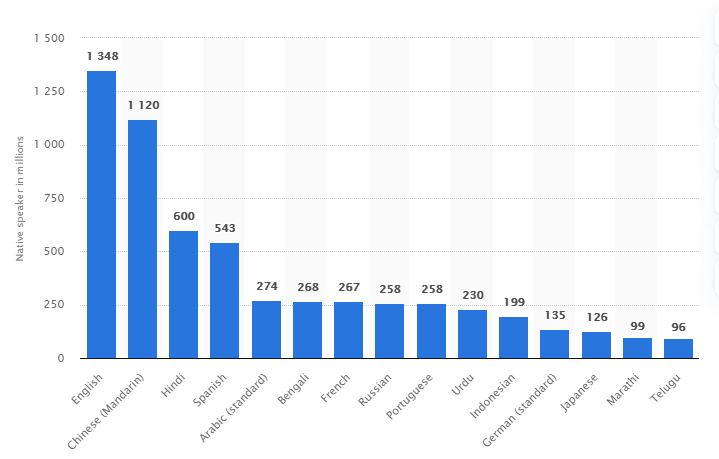 Technology and the Internet have enabled many businesses to flourish greatly in today's era, and most of them target the English language speaking market. But, did you know that English speakers account for only 25% of the market, while non-English speakers account for the remaining 75%? Languages such as German, Italian, French, Spanish, and Polish also hold a good percentage of an overall online global audience. So, what about those potential buyers that are still out there?
By implementing languages other than English into your online business, you will be able to attract 75 percent more prospects.
Enhance the customer experience
User experience and personalization are the most crucial features for today's consumers. To stay ahead of the curve and provide the finest shopping experience to your customers, you should think beyond the box.
Today, we live in a globalized market where hundreds of new eCommerce stores open every day. But, do you know what unique advantage they lack? It's their potential clients' purchase experience, which should be simple.
Make sure that everything is translated, from product descriptions to the checkout process, to facilitate more sales. Every consumer appreciates being greeted in their native tongue since it makes it easier for them to browse your store. This will encourage customers to make a purchase decision as soon as possible.
Increase your sales and revenue
Remember that having your website available in multiple languages will result in higher sales and thus more money. Clients would be satisfied while purchasing from your eStore if you offer native languages to your customers. This will foster great customer relationships. Data shows that when we market our products and services in our consumers' local languages, the chances of sales increase by three times. Increased engagement, easier navigation, and better understanding are the main reasons behind higher sales.
Improved online presence
By translating your e-commerce site, you may boost your search engine rankings for key terms and phrases in a cost-effective manner, depending on the number of languages your website supports.
A better internet presence necessitates expanding into new areas and learning a few new languages. Due to being able to cater to new search queries, you will rank for valuable keywords in other languages.
It provides a competitive advantage
Only 25.9% of the global Internet population speaks English, according to data from March 2020. You should have a bilingual website if you wish to target the worldwide market and capture the remaining percentage.
You will be able to beat your rivals and reach a larger audience if you develop a multilingual site before they do.
How Can You Manage Your Website's Multilingual Versions?
If your website's content is available in multiple languages, the following guidelines will assist your users and Google in finding the correct version of your website.
Allow Google to know about your various language versions
Google supports a variety of languages for labeling page variants, including language and region variants, as well as Hreflang annotations and sitemaps. So, you must accurately label your pages.
Use different URLs for different language versions
Despite utilizing browser settings or cookies to modify the language of the page content, Google suggests using distinct URLs for each language version of a website.
If you use different URLs for different languages, you should use Hreflang annotations to help Google connect search results to the correct language version of a page.
If you wish to dynamically update content or reroute users based on language preferences, keep in mind that Google may not be able to keep up and scan all of your modifications. In addition, the crawler sends HTTP requests without even establishing the "Accept-Language" header.
Make certain that the language on the page is specified
Google uses the visible content of your page to identify its language. We don't give any preference to code-level language information or the URL for this. By using a single language for navigation and content on each page, and avoiding side-by-side translations, you can help Google determine language perfectly.
Simply translating your pages' boilerplate text while keeping a large amount of content in a single language may cause the same content to appear numerous times in search results with different boilerplate languages. This can have a negative effect on the user experience.
Editor's note: You should hire writers who are proficient in the chosen language to rewrite the new content for a specific language version. Don't rely on automatic translations as the context or meaning of your content is sometimes different in another language. If you want to use an automatic translation method then hire a translator to audit all the content of your website carefully.
Provide an option to change page language
If you have multiple language versions of a page, consider adding hyperlinks to other language versions of the page so that users can choose a different language version. Furthermore, you should avoid automated redirection based on the user's detected language. Users and search engines may not be able to see whole versions of your website as a result of this redirection.
Use URLs that are specific to each language
You can use localized terms or an Internationalized Domain Name in the URL (IDN). However, you should use UTF-8 encoding in your URLs.
Things To Keep In Mind Before Developing A Multilingual eCommerce Website
Adding multiple languages to your eCommerce site will boost the number of potential clients. But there's a lot more to it. Let's begin with the objectives you should have in mind when creating a multilingual website.
Redirect traffic based on IP
It is normally recommended to utilize an IP redirect system or code to determine a visitor's location and direct them to the appropriate business in their native language. Such custom applications allow you to display messages such as "It appears you are in Argentina, click here to visit our store in Espanol". Some e-commerce stores redirect users to their store version based on the user's IP.
Auto translation method
Google Translate is one of the simplest and fastest solutions for translating web pages. However, it is not ideal for most websites. As the software is not yet able to match the vocal tone and perform correct translation. The meaning of what you wanted to say will sometimes get distorted.
As a result, we recommend that you implement a manual translation approach. It is not a quick process, but it will help you achieve better outcomes. It entails the creation of separate stores for each language and region you wish to run.
The manual translation process ensures that you communicate the correct message to your visitors. Furthermore, based on the visitor's IP address, this approach claims to instantly translate everything within your store. This will make it easier for potential international customers to find their way around your store.
Craft content for a specific region
Having a bilingual eCommerce store will help your brand become more global and multiculturally relevant. When you cater to your potential international customers' cultural needs, they will feel more connected to and place trust in the services and products offered.
You can also employ marketing campaigns and tailor them to different regions' seasons and events.
Ensure your multilingual site is properly indexed by Google
You must be indexed by Google as well as search engines. This will increase your visibility and draw more visitors to your website.
Google provides opportunities to rank for various keywords in different countries because it has different versions for each language and country. As a result, you should submit all of your websites to Google's Search Console so that Google can see which countries your site is attempting to target.
Make sure that all of the material you publish in other languages is specific and unique to each language and country, or you might not get ahead in Google SERPs.
Implement international SEO
It's critical to improve your online presence in multiple languages and areas if you want to attract a larger audience.
Furthermore, a strong international SEO strategy is required to rank in SERPs for competitive terms globally. It would be better if each language and region had its own webpage.
To do so, you'll need to find out what your overseas customers are looking for in your particular niche.
Furthermore, ensure that the URL structure is clean and region-specific, since this will make it easier for regional search engines to crawl and index your website.
You can also employ an SEO specialist to configure language tags and create distinct content in different languages.
How Can You Develop A Multilingual eCommerce Website?
Developing a multilingual eCommerce website is not an easy task. So, let's look at a few different approaches to doing this.
Through the use of a plugin
You can use a variety of plugins to convert your eCommerce website to support multiple languages. You should choose a plugin that will help you manage translations efficiently while also making them simple for your users.
You should make sure that the plugin you choose allows you to translate your pages, posts, products, and post types. It should also make translating your tags, themes, categories, and plugins a lot easier. It should also make it easier for you to create SEO-friendly URLs for each language.
Through the use of a website builder
A website builder is another alternative that could aid in the development of your multilingual website. Yes, you can choose from various website builders available on the market. You can enlist the assistance of professionals to find the best website builder for your website. We've also come up with some excellent options for you. Some options for website builders are Wix, Squarespace, and Weebly.
Wix
It has various beautiful template designs, the ability to provide complete creative flexibility, and a user-friendly editor. It's ideal for novices because it doesn't require any programming. After you've created a website, just enable Wix Multilingual in your website settings. You can also select from a list of over 100 languages.
Free Plan: Available
Cost: $13/month (Billed Annually)
Multi-language Features: Available in your site settings
Squarespace
When it pertains to template design, no other choice compares to Squarespace. Its greatest designs are trendy, sophisticated, and appealing, making them ideal for creatives. Squarespace does not require any coding knowledge to develop a bilingual website. It is suggested that you create a set of pages for each language. It is ideal if you are not tech-savvy.
Free Trial: 14-Day
Cost: Plan starts at $12/month
Multi-Language Features: Create distinct sets of pages for every language.
Weebly
Weebly is a robust eCommerce targeted website builder that is perfect for small businesses and comes with a free plan. It includes strong SEO and blogging capabilities, as well as a large app store to let you customize and scale your site. The multilingual applications offered in the Weebly App Center are an excellent method to create a bilingual website.
Free Plan: Available
Cost: $6/month (Billed Annually)
Multi-Language Features: A multi-language app from Weebly App Center
Squarespace is more difficult to work with than Weebly or Wix because it requires more effort and skill.
Build a custom solution from scratch
This method is my favorite as it gives me complete control over the structure and behavior of a multilingual site. Building a custom solution takes time, is expensive, and needs expertise. However, this makes it easy to retain SEO, 3rd party integration, and other data on an eCommerce store.
How To Structure A Multilingual Website?
Let's discuss the SEO and site structure of a multi-language store.
URL syntax for a multilingual website
The best way to construct a website in several languages is to use one of the following syntaxes to create unique URLs for each language.
gTLD with subfolders/subdirectories
eCommerce.com/de, ecommerce.com/in/, ecommerce.com/uk/, and ecommerce.com/au/ are subdirectories with gTLDs.
If your local presence isn't strong, your site isn't multiregional, and/or you plan to translate your site into multiple languages, you can use subfolders.
gTLD with subdomains
Subdomains include de.digitalpedant.com, in.digitalpedant.com, uk.digitalpedant.com, and au.digitalpedant.com.
Different ccTLDs for the root domain
digitalpedant.com, digitalpedant.in, digitalpedant.co.uk, and digitalpedant.com.au are ccTLDs.
Distinct ccTLDs (country code top-level domains) diversify the backlink profile too much. If you ask us, we'd reply that, yeah, it's a huge disadvantage right now, but Google is continuously working to improve their results. It's possible that Google will rank us in the future based on language-specific hyperlinks, as this is more significant to end-users.
gTLD with parameters
?lang=fr , ?lang=de
This can be implemented easily but such URLs are not user-friendly. Such URLs can not be targeted for a specific region in the search console as well.
Different domains entirely
This approach is very difficult as you have to maintain multiple sites on different domains. It is only possible to do if you have are a big brand with a large budget.
Here are some recommendations from Google for location-specific URLs for Multiregional & Multilingual websites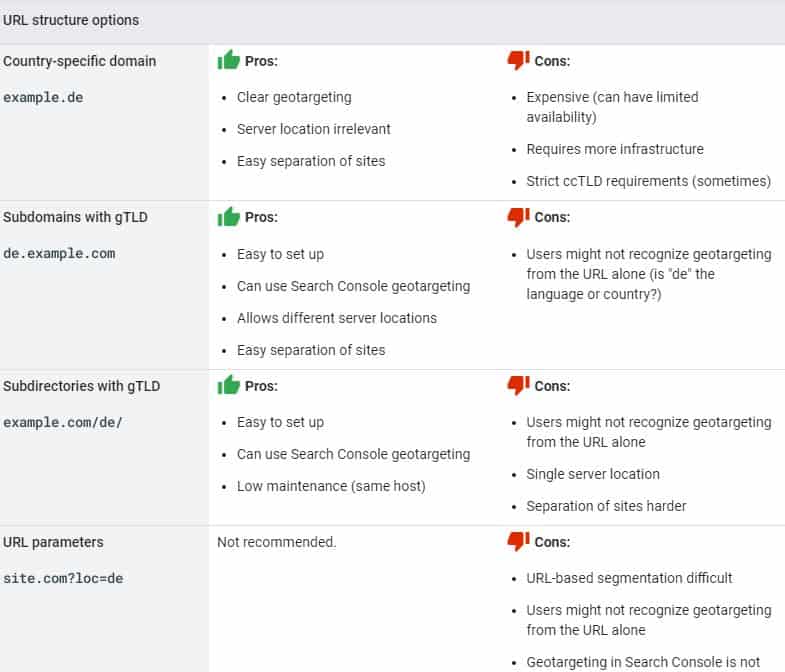 Sitemap & Tags
You may aid Google's crawl your site by creating a sitemap that includes all available languages and using Hreflang tags.
Redirect based on preferred browser language
Redirecting a visitor to a translated and localized website version based on their IP address is not a good idea because:
People relocate and travel globally where languages may differ
People relocate and travel globally in a variety of languages
The optimal option is to redirect based on the user's browser preferences or to ask for the user's language preferences.
RelAlternate usage
RelAlternate is the best approach to let Google know what language preference a URL has.
Canonical tags, on the other hand, must all point to the same language, not your default language.
For example:
"digitalpedant.es/product-in-spanish/" should point to – "digitalpedant.es/product-in-spanish/"
Not to: digitalpedant.com/product-in-default-language/
Steps To Building A Multilingual Website
We'll move on to the stages of developing a multilingual website now.
Establish expansion objectives
The option you choose will be determined by your geographic requirements, resources, and financial constraints.
You should check whether our aim is a certain country or if you need to translate a website for multiple regions. Check to see whether your products have a market or if you can compete on quality or pricing. Furthermore, given your budget and the size of the team required to plan and develop content in all of the languages chosen. Decide on the number of languages in which you want to run your website or blog.
Furthermore, given your budget and the size of the team required to plan and develop content in all of the languages chosen. Decide on the number of languages in which you want to run your website or blog.
Select a URL/domain strategy
A separate domain method or a subdomain approach can be used to create a multilingual website. These ideas suggest that you can either host multilingual versions of your content on distinct domains or use a single website domain with other-language linked pages.
There are benefits and drawbacks to both techniques. You can afford the subdomain strategy because it is free for multiple domains and URLs, but it is more vulnerable to broken links. A separate domain method is faster to set up and less hazardous in terms of defects, but it is more expensive.
Choose an eCommerce CMS that is appropriate for your business
The next step is to select a content management system (CMS) that will make creating and managing content for a multilingual website very easy.
Some common CMSs are WordPress, Shopify, Bigcommerce, Prestashop, and Magento.
Plugins to consider
If you use a content management system, it will require a multilingual plugin. As a result, before moving on, you'll need to find a CMS product that doesn't have these requirements.
Translate content correctly
Manual and automatic translations are available for website content. Any of these options is appropriate depending on the nature of your site content and the demographics of your target audience.
Financial or health niche websites, for example, will use professional manual translation because their content is highly delicate and requires great attention.
A small business selling related products, on the other hand, might opt for automatic translation for their product descriptions.
Automatic translation with a plugin
When it comes to automatic translation, we can do it quickly and easily, but we won't be able to translate phrases, idioms, or word usage accurately. It's also possible that it'll miss a few tweaks.
Invest in a manual translation service
Manual translation, which Google recommends, may necessitate the use of a translation service, but it will result in a well-crafted version of translation, word-by-word, sentence-by-sentence, that will provide the most cohesive version of a language. Although it may appear to be more costly, the result will be more precise.
Make a final decision on a location for the language selection menu
Practical placement of a language selection menu, that is, the drop-down menu should be the most effective and trendy way to present language selection possibilities.
Such menus are usually seen in the top-right corner of a website's homepage. Because users would naturally catch up, this is the most obvious and widely recognized area to put them.
Alternatively, you can put them in your website's header, footer, or even sidebar, depending on your style and preference.
Specify how the language selection menu should appear
To begin, build a list of all the languages that your users will be able to access. Then, make sure they look good and are in the right spot on the menu.
To complete this, most businesses utilize text and flags. In comparison to flags, text-based options are preferred because flags only indicate countries instead of languages.
It's time to optimize
When SEO is the primary issue, multilingual websites require special attention. Search engines will pay more attention to your site if it has a flawless structure, schema for varied regions, and language tags.
Let's take a look at a quick rundown of the best multilingual SEO tasks:
Translate content correctly to retain the actual meaning
Structure URLs properly and, in some cases, use characters from other languages as well.
Implement everything first on a staging site and then only make it live.
Implement Hreflang tags
Discover long-tail keywords in other languages
Test extensions and plugins with multilingual features
Check your content
Typography is an important aspect that is often overlooked when working on your design.
This includes the layout and font you'll use in your content. When a hand-written font appears to be perfect for English text, you should test its readability in other complex languages as well.
You must test the readability of your content in all of the languages that you provide to your users. In addition, you should double-check the alignment and format of your multilingual text.
Make your website available in multiple languages
Well, a multilingual website is about more than just accurately translating words; you should also consider marketing sensitivities and currency changes in various countries.
Localizing your website also entails a correct translation of a language as it is spoken in different countries. Even if a language is spoken all over the world, there are different dialects depending on where you are.
Final Thoughts
As you have realized the importance of developing a multi-language website, you should also be aware that it is not easy to do so, so proceed with caution. Include a variety of options and plan to process a large amount of data to provide your users with the best multilingual experience possible.
So, if you're willing to invest your time and patience, you won't believe how quickly your new multilingual website will pay off.
Finally, we hope that the preceding post has provided you with nearly every detail about a multilingual website and its development. If you have any queries or suggestions regarding building a multiregional website, then let me know in the comments section.