Do you have a fashion brand online or may you own an online clothing store? Are you looking for ways to bringing more customers to your website and increase sales?
Well, a digital marketing strategy that is created especially for an online cloth retailer or fashion e-commerce store can help you achieve your goals. When it comes to SEO the methods of keyword research, paid advertising, website structure and many other things depend on the industry. For example, if you have an online store with various clothing and fashion products in multiple colors, sizes and variants present a challenge in terms of SEO.
So, I have tried to compile a small guide for implementing SEO for clothing and fashion brands


Let's take a look at some stats to understand the significance of digital marketing for clothing brands
As per current market stats, the current worldwide market share of fashion e-commerce is $439 billion, and by the end of 2024, it is expected to become $953 billion. Various categories like activewear, fast fashion, accessories, apparel, and footwear are in high demand. This trend of users preferring online shopping isn't going to stop soon and capturing the market share of online fashion e-commerce is a good idea.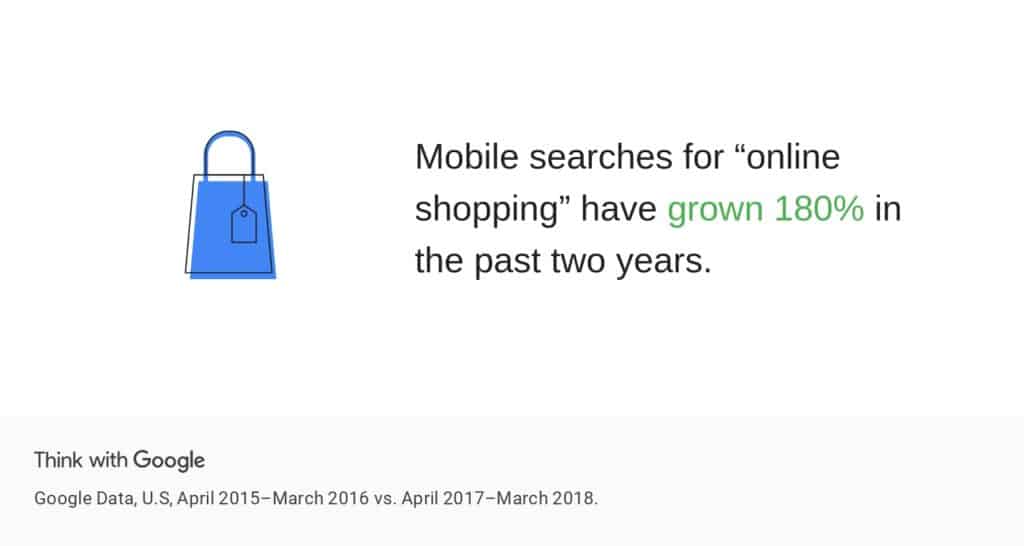 Market cap of leading fashion e-commerce companies worldwide Sept 2020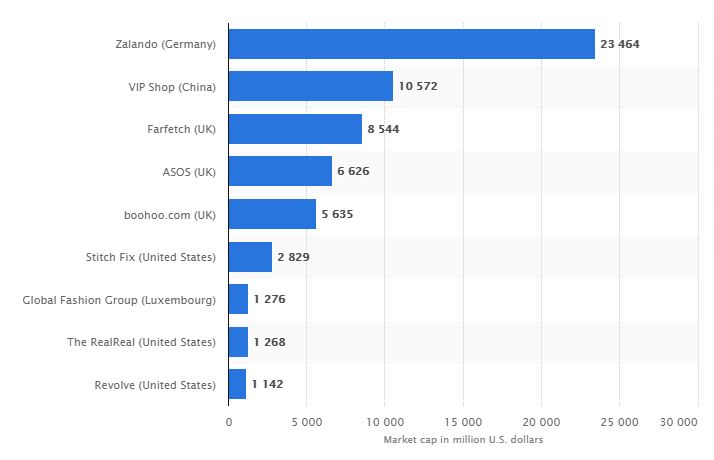 Find & Target Keywords That Accurately Match The Search Intent Of Your Audience
Finding the right keywords for your pages as well as individual products is very important. You need to do keyword research and find long-tail keywords that bring customers with a search intent of buying a product from your clothing store.
For example, if you have a clothing store and you are targeting the keyword "types of dresses" and the user comes to your site consumes all the information, and then goes away because his/her intent was to just get information. Instead, if you targeted a keyword like "buy dress for wedding" then here the searcher's intent is to buy…or we can go longtail "buy dress for Christian wedding" and it would be easier to rank on this keyword.
You can use tools like SEMrush, Ahref & Google Keyword Planner for finding useful keywords. The search for better keywords for an online fashion or apparel store can be broadened by combining terms like budget (cheap, affordable), gender (men's, boys, women's), age (children, teenager, seniors), etc.
The biggest mistake I see when the owner of an online fashion store tries to do SEO by himself is that they target keywords for product pages like " Magenta Bella Gladiator Footwear" here the word Magento is for color, Bella Gladiator is the product's name and the product is footwear for women. In real life, the customer doesn't know about your product and he/she will search for "bright pink stylish sandals".
So, when doing keyword research think from the perspective of customers instead of your own.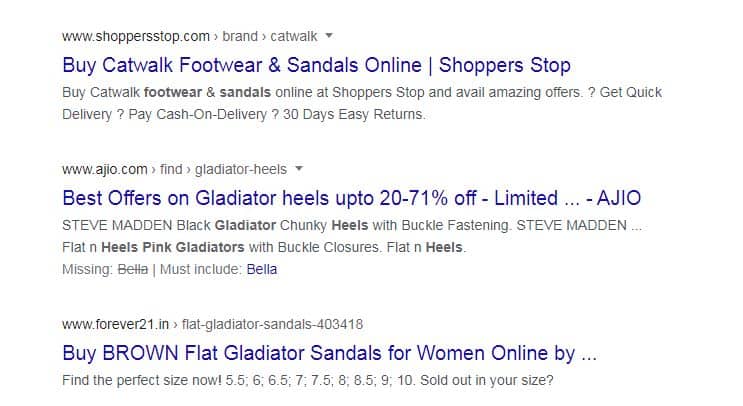 Finding keywords for an online clothing store isn't difficult and before you start research I suggest you study all your major competitors and what results they are getting. If you are not good at SEO then set up a brief meeting with an SEO specialist for consulting.
Canonicalize Multiple Product & Category URLs To Improve Crawl Budget, Visibility & Reduce Duplicate Content
When we do SEO for a large e-commerce site then one of the most common issues is multiple products appearing in multiple categories. A single product might be appearing in different categories with different URL and this confuses the Google bots.
For example, if you have a product like "Sports Shoes" then they might be listed in categories "men's shoes" "running shoes" "trending" "sale".
https://www.example.com/sports-shoes/
https://www.example.com/mens/sports-shoes/
https://www.example.com/running/sports-shoes/
https://www.example.com/trending/sports-shoes/
https://www.example.com/sale/sports-shoes/
From a user point of view providing a well-defined URL is good but for a search engine bot all the different URLs may seem different and the content on them will be considered a duplicate. So, using canonical tags on the main product URL will resolve this issue. You can learn more about consolidating duplicate URLs here.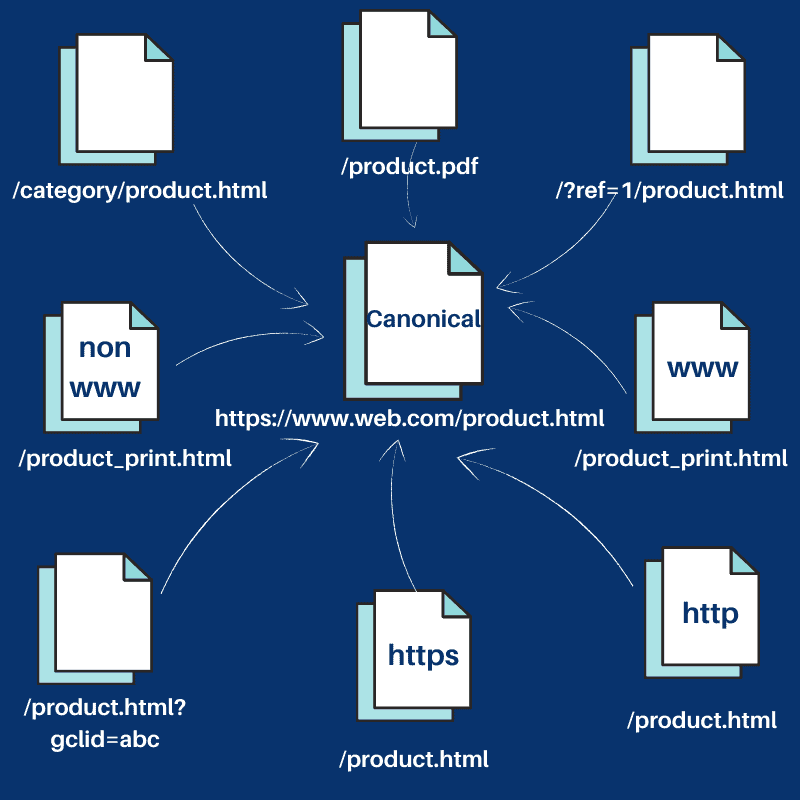 Canonicalizing Your Product Variants or SKU's
Apart from canonicalizing product URLs another similar issue is created when choosing the URLs and site structure of a fashion e-commerce website with products available in different colors, sizes, and prints. For example, a product with a SKU (Stock Keeping Unit) variant can be optimized to rank for different terms. Suppose you want to rank for the keyword "buy iPhone" and what if there is good demand and search volume for keywords with a color variant like "buy iPhone in grey" or "rose gold iPhone". Then wouldn't it be a good idea to create a separate URL for each color variant of the product? This seems a good idea but when this strategy is implemented Google might consider those pages duplicate as the content is almost similar apart from the different color. In such a case each URL for a different color should have a canonical tag pointing to the main URL of the product.
So the URLs should be like /iphone-11/silver & /iphone-11/rose-gold and the canonical tag of both these URLs should be pointing to /iphone-11/.
Doing this tells Google that the color variants of the product are simply a copy of the main product. Google identifies this and understands that the content is not duplicate. However, a canonical tag is simply a request to Google and is not a directive.
Another issue that arises with multiple product variant URLs is the lack of good user experience and a large number of URLs impacting the site crawling frequency and crawl budget.
Solution to this issue: The strategy for creating URLs may change for different fashion e-commerce stores. However, a good solution is to create a single URL displaying all the product variants with unique product descriptions. The content on that URL should contain keywords for all the variants at least once. This way we achieve three things
The user gets all the information of different product SKUs at one place (better user experience)
Single URL so content duplication
Less no of URLs so no issue of exceeding the crawl budget.
Creating An Optimized Site Structure for Search Engine Bots as Well as Users
Site structure is the way in which you have grouped or organized your content and how it is presented to the users and Google bots. You need to create a structure that is easy to navigate based on broad categories leading to smaller sub-categories. The user must be able to sort and filter through products and categories based on price, color, type, brand, reviews, etc. The main categories should be targeting your main keywords and the lower categories should be focused on low priority keywords. Overall, a well-structured site with silos and categories is easy for users, and the bots can also easily parse and understand the value of each URL based on the hierarchy. For a better understanding you can study the site structure of some popular fashion e-commerce stores like Lyst, Myntra, Polyvore, etc.
Showing Related Products Below The Main product That User is Viewing
As you might have noticed on other e-commerce stores for clothing that below the main product a list of suggested related products is also shown. It may be word differently like
You may also like
Related products
Other people also bought these
Frequently bought items with these
Best selling items
And all these methods try to draw the attention of the user towards similar products. This strategy s used by almost all the online fashion stores and this benefits by boosting a few KPI's and experience for site visitors.
Decreasing bounce rate
Increasing CTR (Click Through Rate & conversions
Increasing session timings & pages per session
Improves user experience
Improves site coverage and indexing status
Submit Your Sitemap in Search Console
Create an XML sitemap that contains all the canonical URLs and submit it to the Google search console and Bing webmaster. A sitemap helps the bots to find all the new and modified URLs added to your fashion e-commerce store. Try to keep track of 404 URLs and avoid placing them in the sitemap. Apart from the XML sitemap, you can also create an HTML sitemap that makes it easy for the users to navigate your site. For example, the links in the main menu and the footer menu sometimes act as an HTML sitemap.
Implement Structured Data To Increase Visibility & CTR
Structured data is not a ranking factor but adding it to your important product pages can increase your site's visibility in the search results. Also, the added information and visibility increase the Click Through Rate. The structured data is also referred to as Schema Markup and for a clothing store, you can find relevant schema's to add on schema.org. A schema can be added in three ways:
Google prefers JSON-LD however you can implement it in whatever way is suitable for you. You can create a product aggregate rating or other schema using the technicalseo schema generator tool.
Google Shopping Free Listings
You might have noticed while using Google for search that for some keywords Google also shows products under a shopping tab. These products are actually listed through the Google Merchant Center.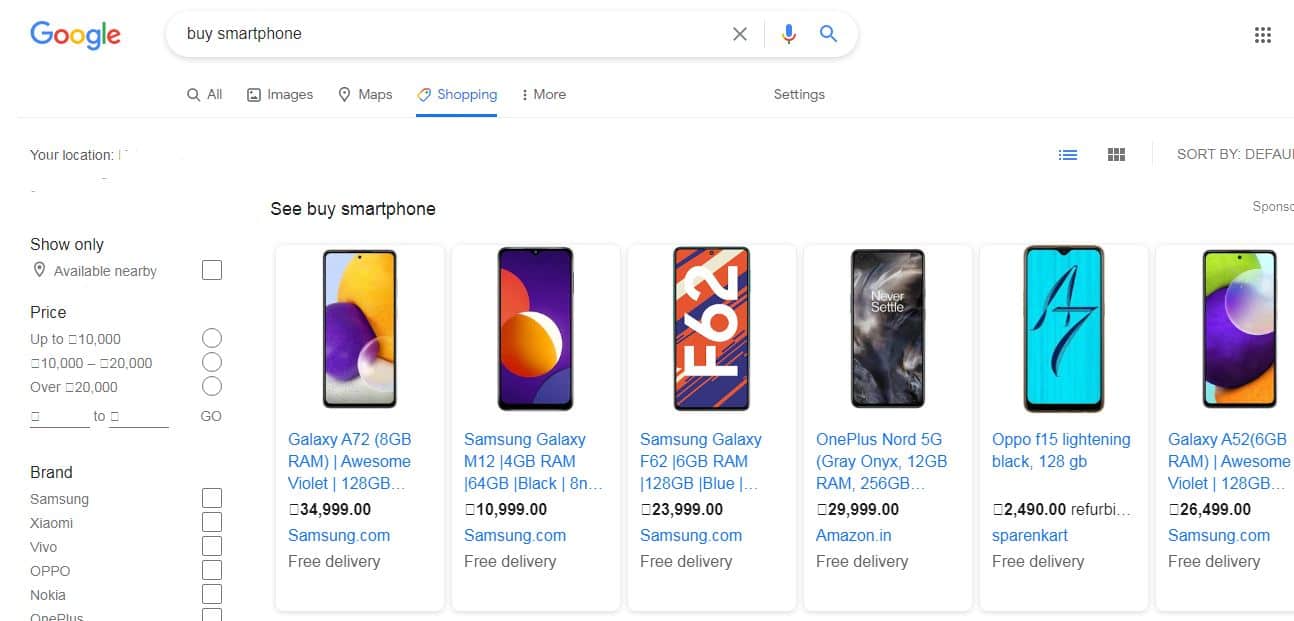 These listings are called Product Listing Ads (PLA) but recently Google announced that now adding your product to Google product listings for free is allowed in the USA. The paid listing will also continue but as an online clothing store, this is a great opportunity for you to add your products under the Google shopping tab.
Build a User-Friendly As Well As Mobile-Friendly Website That Loads Quickly
Everybody says this but nobody understands it properly. Creating a website that provides a great experience to users and is easy to parse by search engine bots is both a necessity and an integral part of SEO strategy. First of all, choose an e-commerce platform that is scalable and provides you the freedom to customize your site design as you wish. Here are a few tips for a nice website for an online clothing eCommerce store
Site speed is a ranking factor, so make your website load quickly and provide a better visual experience
Create product pages that are easy to navigate and the users can sort, filter, and find relevant products to shop
Use calls to action (CTAs) and email newsletters to improve conversion rate
Choose web-safe fonts that are easy to read, beautiful, and supported by all browsers and devices.
Use custom high-quality images like these are a must for a fashion e-commerce brand
Your e-commerce site must have robust navigation and you can observe the user experience using heatmaps
Test if your eCommerce website is mobile-friendly because these days the number of mobile users is increasing rapidly.
Create & Run A Fashion Blog With Strong Content Marketing Strategy for Inbound Traffic
This is one of the most important yet basic tips for improving the SEO for your clothing store. After doing all the onpage implementations like better site structure, canonical URLs, UI/UX, keyword research you will still be struggling to get organic traffic from search engines. The reason is that there are a lot of competitors present on both Google and Bing. All these competitors are trying to rank for similar keywords which makes it extremely difficult to rank. So, as per the Google search results quality guidelines, one needs to provide great informative content, fulfill search intent, provide a better user experience and get backlinks organically for better rankings. Google wants you to focus on EAT which means a website must show Expertise, Authoritativeness & Trustworthiness. Which means be the best result a user wants.
However, backlinks are one of the key aspects that affect rankings. We don't suggest using paid backlinks as Google would like you to get backlinks naturally. You will only acquire natural backlinks when you create great content with time. That is why most of the online clothing stores & fashion e-commerce brands are running their own blogs and creating textual, audio, and visual content for their audience. A fashion blog helps you connect with your target audience and increase brand awareness. So, consulting a content strategist and creating a content plan with the aim of supporting your product pages and acquiring backlinks can help you improve your SEO. Also, creating a presence on social media where your prospective customers hang out is a smart move.
Conclusion
So, reading this post must have given you a brief idea of how to improve SEO for your online clothing store. Although, digital marketing for fashion brands includes a lot of other things. But these SEO tips are a good starting point for anyone starting their own e-commerce store for fashion accessories and clothing.