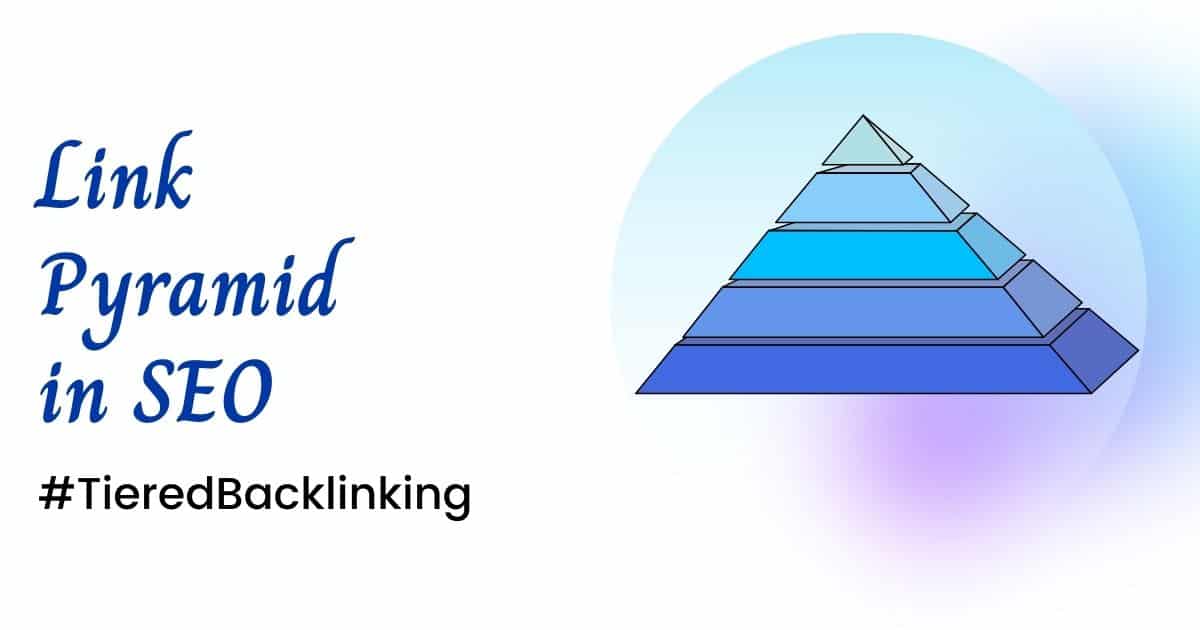 In SEO, multiple aspects are there that play an integral part. Among all of these, profile linking creates a big role. It does not only help them to gain traffic but also helps them to maintain online visibility. Let's discuss it in detail.
What Is Link Pyramid In SEO?
Link Pyramid in SEO is a strategy that is followed to build backlinks and send backlinks to other backlinks. It is one of the many methods used for ranking a website in SERPs of Google.
The link pyramid is one of the earlier strategies developed when Google put a value on backlinks. The best part is these are easy to implement. This strategy sends high-quality backlinks to money sites and provides support to all the pages. It has a direct impact on the indexing rate of all those backlinks available on the site.
For a specific webpage, an SEO specialist will consider pyramid-building elements accordingly. After considering these, they can understand the requirement and the aspects to focus more on building up these links efficiently.
The pyramid system has three different types of resource categories available, and these are concluded from different resources. There is a simple criterion for load where the links in the third and second category act as donors for the first category links. Basically, the promotion of the second category has been done with the resources in the third category. The resource is right there in the second category is responsible for Lead traffic to the sites affecting the first category. This is the top of the SEO backlink pyramid and is directly proportional to the web page's promotion.
A typical pyramid has three-tier:-
Tier 1: Highest Quality Links
These links have a direct effect on the position of the website. Make sure these are not spammy and mark the promotion appropriately. These are created manually with Web 2.0s, social bookmarks, blog posts, and some more. All these links should be of the highest quality because these directly tear the site.
Tier 2: Medium Quality Links
The links in medium quality links could be of span content and Auto-create links. These are pointing towards the backlinks available in the first tier. Majorly these are focusing on all the backlinks right there in Tier 1. When these are focused on Tier 1, this will strengthen the quality of all the links right there in it. There will be an enhancement in the index rate as well. In Tier 2, it is essential to create 15 to 20 times more tiers than the first one.
Tier 3: Spamming Threat and Low-Quality Links
In Tier 3, the low-quality links are there example auto approve the blog comments and some more. This is pointing towards all the backlinks in Tier 2. When these are pointing towards the backlinks in Tier 2, this will enhance the index rate. Google does not index the backlinks in tier 3, so there could be a few backlinks on average.
How To Build A Link Pyramid?
After understanding the tires in the link pyramid, there is a curiosity to understand how to build a link pyramid. Let's understand about it:
We need to start from the top. Building up a link pyramid is not everyone's cup of tea; hence, it is integral to understand all its aspects.
Primarily understand the links must be trustworthy and have a link with the topic of the website. (A user can consider all those informative portals having good traffic). These links must be trustworthy because it directly impacts the rank and must be having a high PR. This is because high PR links indexed and fast all the criteria from rubbish to know PR links. In the end, please become quite stronger for the portal. It clearly indicates it is not essential to have thousands of low-quality links. Some quality ones will help you to achieve the right rank.
Secondarily, create a secondary category that must have links from the official pages in social networks. This could be related to Wikipedia pages, side catalogs, and other official company blogs.
Thirdly, this is the base of the pyramid, and it must have all the web posts and comments available on social networks and professional ones.
And that's it. These three are crucial things to consider whenever it is about creating a link Pyramid. In case any of the aspects are missed, it becomes quite difficult to get the results as expected, and building up the link pyramid will be quite difficult.
Benefits Of Link Pyramid
As we have already understood about the link pyramid, it is also essential to understand the benefits available with links created. These are as follows:
These links will help Google to ranking a website.
There will be credibility with these links, which act as an initiator for making your site popular.
Higher site metrics and good SEO scores will be there after link building.
With appropriate backlinks, there will be an enhancement in web traffic.
Revenue opportunities and sales will have a boost.
It acts as an initiative to stand as an authoritative voice.
Help you to build up connections and to improve relationships.
It will act as a method for good exposure.
Visibility will have an enhancement.
Act as the source of continuous referral traffic.
Editor's Note: The efficacy of the link pyramid depends on the quality of links created. This offpage technique will work on some websites but not on all. The concept is simple that we build backlinks to pass on authority or what people call link juice. Link pyramid is another fancy name for doing tiered backlinking.
Endnote
It is right to save link pyramid is essential in SEO and the platform in different ways. This link pyramid will act as an effective strategy for building up quality backlinks and sending backlinks to those backlinks again.