This is the first case study that I ever published online. I have been able to slowly progress and made a lot of mistakes along the way. I hope this can provide you some insight into building good websites, have fun and earn money in the process.
Started on: Dec 2019
Domain age: Less than 1 year
Total Investment: 213.52USD
Profits: 140.92USD
Niche: Less Competitive
Goals
The goals were not so clear in the beginning because this is my first website and I am still learning. Although I am working as a digital marketer since 2014 and have dabbled in various projects of clients in many different countries and industries.
To start a site and get to 2 to 3 million traffic a day.
To reach to the 100 posts mark in a year.
Work Done
All the content written on this site is my own work. I often get busy with my full time job and family so I have been trying to keep patience and progress slowly. Writing content is not one of my strengths and I didn't did any backlink effort apart from 3 backlinks I acquired from three different guest post websites. Those websites are not an authority or anything. I just tried to make backlinks but couldn't find the time to make efforts. As of now I don't have much backlinks.
Keyword Research
I use different tools for keyword research like SemScoop, Semrush, Ahref, Keyword Surfer extension, WMS Everywhere and Keyword Everywhere. I have only bought the Keyword Everywhere credits other than that I use trials and free version. I didn't did any keyword research before starting the website and as I am a member of an online community called JustStart on Reddit….I just started. All the keyword research is done on the go. I am still getting the hang of finding low competition keywords and I will soon release a post about doing keyword research.
Speed Optimization & Core Web Vitals

I know that Core Web Vitals are not a major ranking factor but I was kind of obsessed with it. I am more of a technical guy who likes setting up websites and doing on-page seo rather than writing loads of content. So, I read a lot and learned how to optimize a WordPress website for speed. Although it took me a lot of trial and error but in the end I managed to get all the urls in the Green zone in Google search console Core Web Vitals. Although, after ezoic the speed of all url's went down and now again I am in red zone. This doesn't bother me much because all my competitors are also working on slow page speed.
Traffic Growth
These are traffic stats for October 2020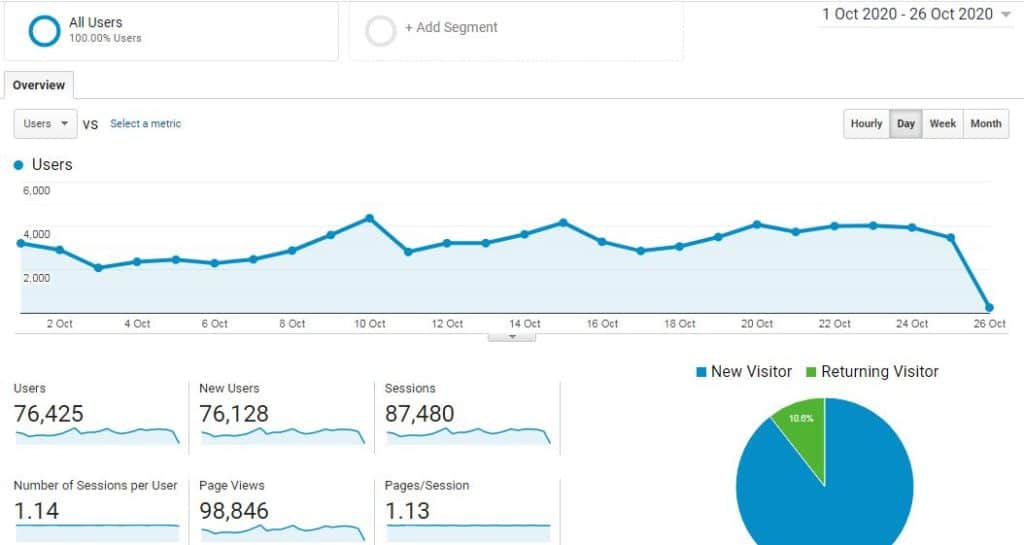 Impact of Google May Core Update & Recovery
A complete view of traffic from December 2019 to October 2020. I made the first post on 14th December 2019.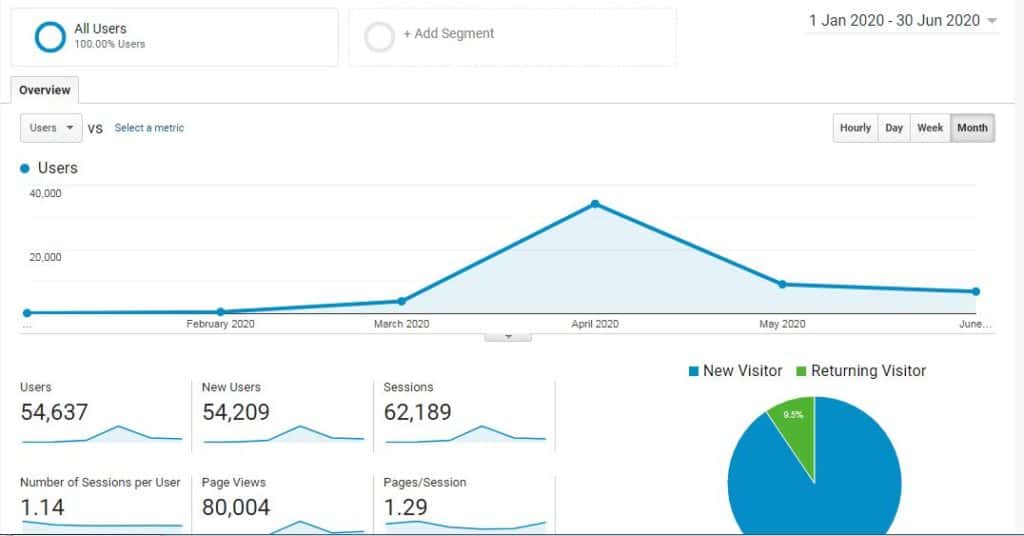 Total Traffic from Dec 2019 to October 26, 2020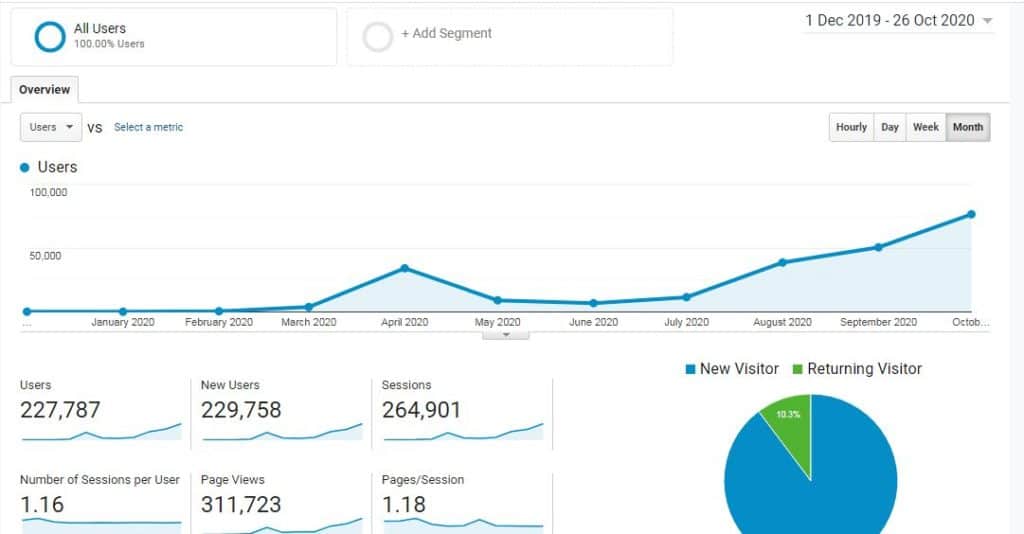 Progress Statistics
I got approved for Google Adsense in mid June and joined Ezoic on a friend's recommendation in the second week of September 2020. I also planned to go to the Amazon affiliate route but could only write two posts for it and got rejected for not making a sale under 180 days. Here are my stats till now.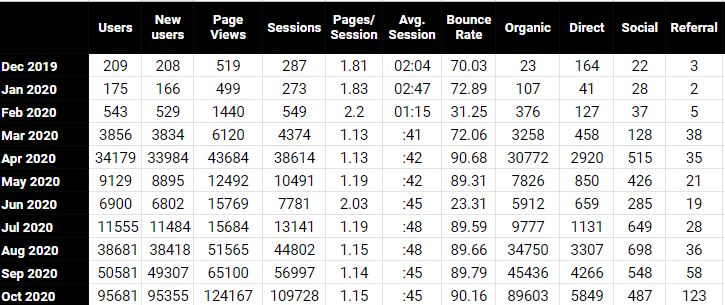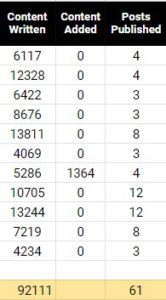 As of now I am not comfortable sharing the earnings of this project…so I will share it in future updates
What I Learned in The Process?
I can easily buy a domain name and setup a website in under a hour.
I learn't a lot about Speed Optimization and can make a website load in under 3 seconds.
I made some knowledgeable and passionate friends online.
I learned about managing VPS and what kind of hosting is best for a beginner
I get to implement a lot of on-page SEO tactics which I could't implement at my day job as a digital marketer.
I learned that earning money requires investment, lots of time, patience and passion.
I now know that for some niches a site can rank without any backlink making efforts.
Wrapping Up
I know this post is far from complete and I have so much to learn and share. Still, I am satisfied with my half-assed effort at building a niche site. Hope you like this post.