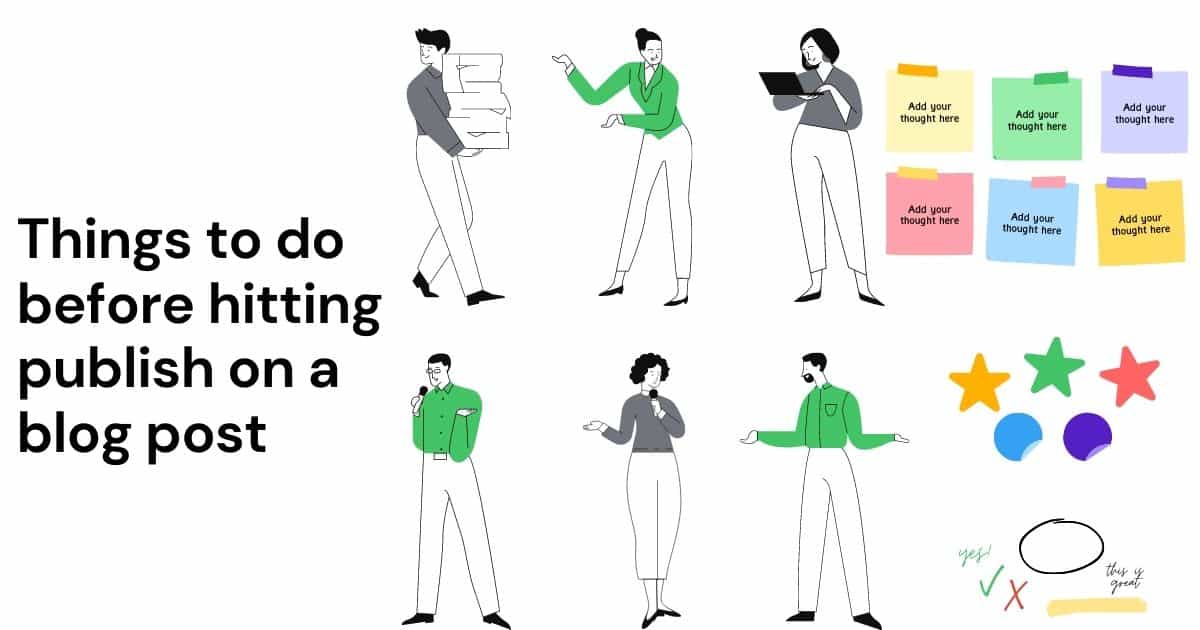 Running a website or blog is simple and if you rely on content marketing then you need to publish a lot f blog posts. Writing a blog post is easy but sometimes we forget a few things to do before publishing a blog post. I publish at least 2 to 3 posts for various projects daily. So, here I am writing this post from my experience of doing things before hitting publish for a blog post.
Take a look and let me know in the comments if I missed anything.
Perform Keyword Research: The most basic yet most important
Keywords are what people bring people to your website through Google search. So, choosing the right keywords and creating content that provides the best answer to the search query should be our goal. You might have heard the term search intent when people talk about writing quality content. So, search intent is the main motive a user searched for a term in a search engine.
Suppose you search in Google "things to do before publishing a blog post" then in most cases you are looking for a list in which various tasks or steps are provided. The user doesn't want a lengthy article, he/she just wants simple to follow steps for publishing a new piece of content.
I use a wide range of SEO tools such as SEMrush, Ahrefs, Keyword Surfer, and more. Don't go crazy on tools because until you learn to judge a keyword manually these tools aren't are of much help. So, keep doing it and soon you will learn how to find golden keywords for your blog post.
Research Competitors & Gather Knowledge Sources
We all want to write unique content but what unique here means is that adding value to the existing topic or content and providing something useful to the user. If you are an expert on the topic you are writing then you might not need to spend too much time gathering information.
On the other hand, if you are not an expert then you should spend time on
reading what others have written on that topic
What subtopic they have not covered
What extra & useful information can you add
Will the blog post be more useful if you provided real data, statistics through graphs, images, short videos, tables, or downloadable PDFs and excel sheets
Read all the blog posts and take notes simultaneously
The amount of research that should be done depends on the keyword and the number of words that is enough to satisfy the user query.
Create an Outline or Post Structure
Structuring your post the right way will help you write faster and the post looks organized & easy to understand. I prefer to write my articles in Google docs paired with the Grammarly add-on. I define the title, H1, H2, H3, quotes, tables, images, & more. While creating a post outline I also add my notes and references to it. After completing the outline I just focus on that tab and nothing else. While writing I don't do research or any other activity. This ensures that I maintain the flow and write content quickly.
Write the Post
As of now, you have all the research and knowledge to write on a particular topic. You should write from the perspective of an expert and try to include semantic keywords naturally. Keep the flow of the content easy to understand. You can use the Hemmingway app to improve readability. If you are not good at typing then learn touch typing as it is a valuable skill for content writers and SEO experts.
Create Graphs & Images to add
Images improve the user experience and sometimes add value to the content. Create images for stats, diagrams or use original images taken by your camera or phone. If you are a beginner then use Photopea or Canva. Or you can use GIMP or Photoshop to create attractive images.
Optimize your post as per SEO
Once written I do the following tasks
Check formatting, structure & grammar

Reread to understand the meaning and check the placement of keywords
Create Title, SEO title, Meta Description, Add to the relevant category, Add an author
Add a table of index (either manually or with a plugin in WordPress)
Add internal & external links where necessary (I use a plugin for interlinking as well as add links manually)
Create search engine friendly URL's
Add links to referenced articles and data sources
Add banner images and text with Call to Action & link them to the inquiry form
Add UTM parameters for tracking certain links & inquiry forms (or track events via GTM)
Add images for social media sites (OG tags & Twitter tags: the current size for Facebook & Linkedin images is 1200 *630)
Proofread before publishing
Take a look at the post preview and proofread manually as well as with a tool. Once you are satisfied then you can hit publish or schedule for a later date.
I only talked about steps to take before publishing a blog post but I am writing about a few steps to take after publishing a blog post as well.
If you have an automated sitemap then it's fine otherwise add the post URL to the sitemap
Submit the post to Google Search Console & Bing Webmaster
Share on your social media channels
And if required forward it to your link building team to add in future guest posts
I hope this post provided you some value in terms of improving the task of writing and publishing a blog post. If you have started a new blog then the most simple advice I can give is to work hard, track everything, analyze and adapt.